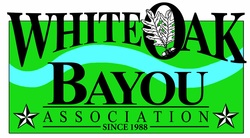 White Oak Bayou Association
P.O. Box 9220510
Houston Texas 77292-0510
The White Oak Bayou Association was founded by Lynda Mifsud and incorporated in the State of Texas on May 20, 1988. The organization's primary purpose is: To promote greater public awareness, appreciation, and enjoyment of White Oak Bayou, its tributaries and environs by advocating the preservation, restoration, and maintenance of the natural wildlife habitats thereof, while promoting compatible educational and recreational opportunities within the area.
A 501(c)(3) ORGANIZATION - Our board meetings are held on the first Tuesday of every month (except November) at 7:00 pm. If you would like to join us for our board meetings, please call 765-426-1743 to confirm. From time to time we change our meeting date and venue.
Membership Form
- you can email us your membership information at
contact@whiteoakbayou.org
and pay for the membership level through PayPal. Use the Donate button on this page.
White Oak Bayou Watershed Map
White Oak Bayou Watershed by Zip
---